Nauyaca Waterfall
Nauyaca Waterfall should be at the top of any Costa Rica bucket-list or "Top 10 Costa Rica Tours" list, especially for those tourists that visit the central-to-southern pacific region of Costa Rica. Towns and areas that are within an hour of the waterfalls include:
Dominical
Quepos/Manual Antonio
Uvita
Ojochal
San Buenaventura
San Isidro del General
Plantinillo
The waterfall is absolutely magical. In fact, there isn't just one waterfall - there are, indeed, two sets of falls to visit.
Waterfall #1 is 45 meters (130 ft) in height and is only recommended to be visited for photography. It is too dangerous to swim under the falls or near them due to the fast current and the sharp rocks nearby.
Waterfall #2 (see photo above) is 20 meters (60 ft) in height and is a wonderful place to swim, to photograph and, if you are daring enough, to jump from. Jumping from the rocks is only available for those visitors who are on an official tour scheduled through the Nauyaca Tour office.
There are four different tours available to visit the waterfalls:
Walking/hiking
Horseback
Private VIP/vehicle
Group Vehicle
Walking/Hiking to Nauyaca Waterfall
For the most privacy and to set your own speed, we recommend walking to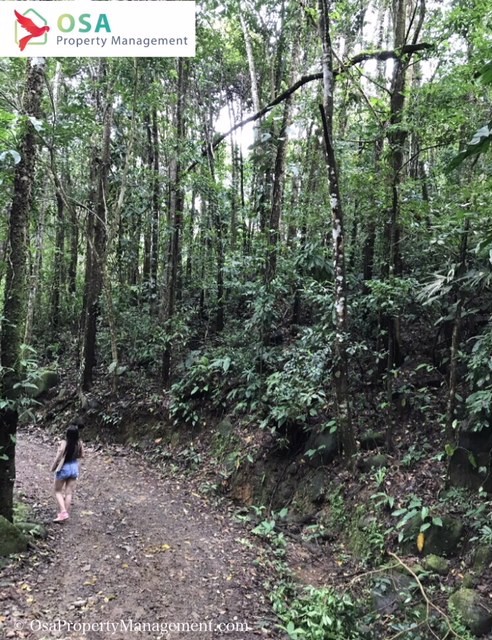 the waterfalls. The 7 KM trail (~4.5 mile) trail follows a rugged public road, although it is impassable by vehicles in several areas (the VIP/vehicles take a different route), with varying topography. During the rainy season areas will be very muddy so be sure to wear shoes/boots that you don't mind getting dirty.
This option is ideal for visitors who want to take their time and enjoy the privacy that rural Costa Rica has to offer.
There are many types of trees, birds, butterflies and flowers to see, and you may be lucky enough to see or hear a scarlet macaw, toucan or howler monkey while hiking.
The roundtrip walk to/from the parking lot is 5 miles (8 KM).
Cost: $8/person
Horseback riding to Nauyaca Waterfall
The most common way to arrive to the falls is by horseback. The tour is available for people of all skill levels of horseback riding. The tour includes:
Guided horseback tour
Small breakfast
Time at the waterfalls
Afternoon snack
Cost: $70/person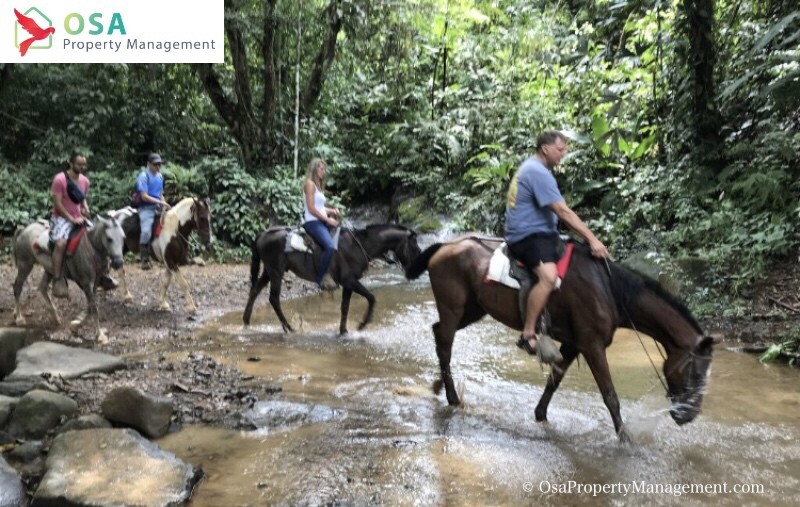 Private 4x4 Vehicle to Nauyaca Waterfall
Newly available in 2017.
The private 4x4 trip to the waterfalls will take you and your guests directly to the waterfall at the times you choose (availability restrictions may apply).
This tour includes:
Private guide
Lunch
Snack
This is a perfect way for a group of people to travel together and to enjoy this adventure together. Also, a great way for those who have troubles walking long distances or over uneven terrain, those with limited time availability and those with mobility issues.
Cost: $70/person
Group 4x4 Vehicle to Nauyaca Waterfall
This tour takes two hours and is available Monday - Saturday at the
following times (subject to change):
7am-9:30am
9am-11:30am
10am-12:30pm
11am-1:30pm
12pm-2-30pm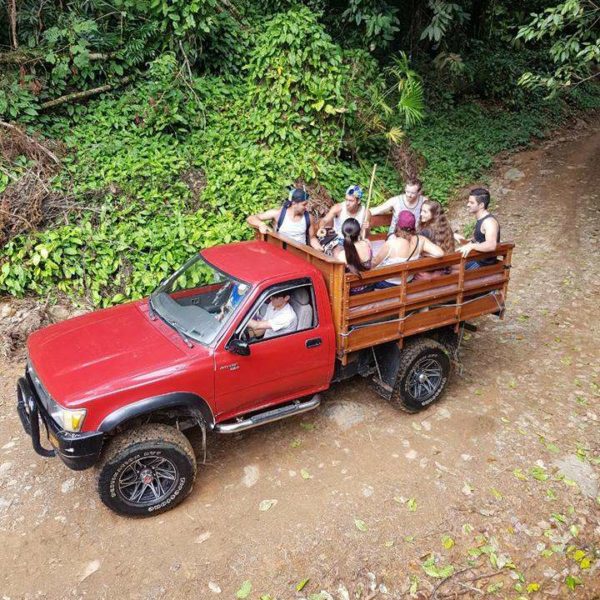 Cost: $28/person
Nauyaca Waterfall Tour Photos