I recently took my very first trip to Costa Rica.
I have been to Brazil,  Paraguay, Jamaica, Hawaii, Thailand, Spain, the United Kingdom, France, and Bali. But this was my first trip to Costa Rica.
My preconceived image of Costa Rica was very green, lush and a rain forest jungle.  So, this is what I was expecting when we landed in Liberia.  However, if you are familiar with Costa Rica, you know that the northern part around Liberia is more flat and less jungle.  We rented a car at the Liberia airport, and headed our way, south down the coast line.
As we headed further south, the greenery and foliage rapidly, became much more apparent.
My friend Nick, did the driving, so I was able to look out the windows and take in the sights.  By the time we arrived at our destination in San Buenas de Osa, it was dark.  So we went to bed, and got some good rest for the big day tomorrow. I felt like a child at Christmas time waiting for the morning to arrive.
The photo below is Nick while we were having our morning coffee.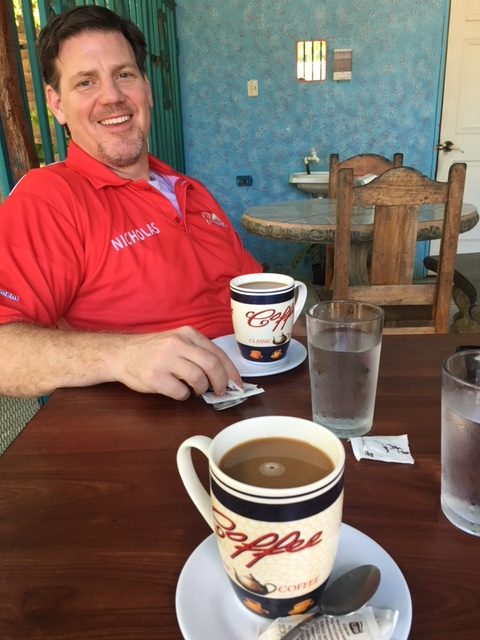 I am an early riser, and really enjoy listening to the birds and animals as they are waking in the morning also. The howler monkeys are abundant in Costa Rica.  With Costa Rica being a tropical location, the birds are all very colorful.  The scarlet macaws are a common site. They tend to travel in pairs, because I guess they mate for life.  One of my most memorable sides was when we saw eight scarlet macaws flying through the sky, and they were in four pairs.  The scarlet my car is a very vibrant red, blue, green and yellow.
We also had some chance to see toucans.  That took in is a very intriguing site and they had their beak is about the same size as their body.  When they fly, it seems like they would flip upside down.
One of my favorite nature sightings is the blue Morpho butterfly.  It is a huge butterfly.  The wings are blue on one side, and gray on the other. However I swear that I saw them as blue and orange.  I must have been hypnotized by the beauty of Costa Rica. LOL.
Check out this tree. Even tree bark in Costa Rica is colorful!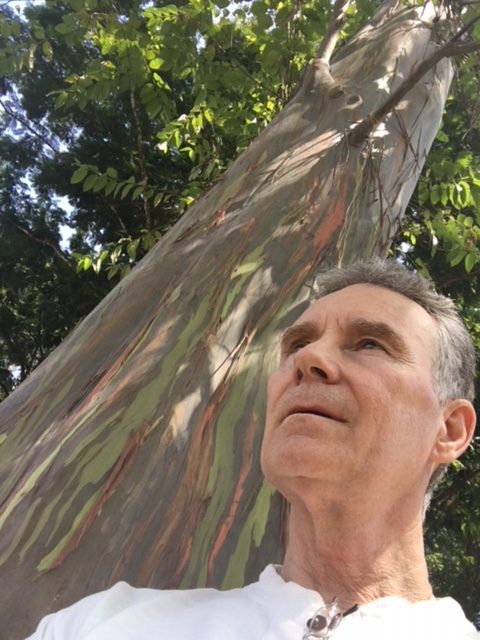 We also took some trips to the beaches  and waterfalls.  I understand that Costa Rica is self-sustaining using hydroelectric power.  Getting energy from natural resources intrigues me. I am also intrigued that Costa Rica does not have a military. From what I understand, they use the money for education rather than the military.
I could go on and on about the many sites and activities however I would prefer that you came yourself.
I hope to see you in Costa Rica.
Pura Vida (Pure Live)
BRAD GUDIM aka MagicBrad